"I think Lucky in Love is one of the best books on the subject of love and relationships I've ever read. I run the matchmaking program at a large singles organizationand immediately ordered copies for every member of my program."
--Lisa M, W. Orange, NJ
"Lucky in Love is insightful, funny and full of great advice. I've reread it dozens of times already, and every time I do, I understand Adrienne's philosophy a little more. It's especially helpful when I'm in the midst of relationship problems. This really helps me put things in perspective."
--Diane G., Stamford, CT
"From the first page, Lucky in Love had my attention. It explores all those things you already know, intellectually, about love and explains them in a way your emotions can understand."
--Brian B., New York, NY
"I've been carrying around Lucky in Love in my handbag since I got it three weeks ago. I reread it every day, and every time I do, I absorb a little more of Adrienne's very wise philosophy."
--Sandra L, Brooklyn, NY
"Making the Personal Ads Work For You put a new spin on blind dating. I've never enjoyed going on dates with strangers, but these days, it seems to be the best way to connect with people. There are a lot of great tips in this book that help take the sting out of those potentially awkward meetings and put you in the right mindset."
--Dana F., Jersey City, NJ
"Making the Personal Ads Work For You is funny, insightful and very practical. The advice is great not just for personal ad dating, but for dating in general. I've started to view blind dating as a fun challenge and learning experience instead of dreading them as torture sessions, as I used to."
-- Micki G, New York, NY

Lucky in Love: Rules to Love By
Wisdom distilled from many years of loving, dating, failing,
picking myself up again, dusting myself off, and getting back
into the fray. If you follow even 10% of the advice in this
book, your love life will improve 1000%. I promise.

price: $10.00 (plus $2 s/h)
download $7.50 click here

Making the Personal Ads Work For You
Time-tested tips from a 25-year veteran of the personal ads,
through which I eventually met my husband. With the right
attitude and these useful suggestions, you too can meet the
person of your dreams!

price: $6.50 (plus $2 s/h)

Ice Breaker™ Conversation Cards
Thirty thought-provoking, open-ended questions
on small, pocket-size cards. Designed to elicit
thoughful responses. Perfect for getting the conversation
going on first (or subsequent) dates or even at parties.
Any one of the questions might lead to an entire
evening's discussion.
$8.50 (plus s/h)

Adrienne's Blind Dating Survival Kit™
One copy of "Making the Personal Ads Work for You,"

One set of 30 Ice Breaker Conversation Cards

A copy of "An Honest Guide to the Personal Ads"with hilarious definitions of what they say and what they really mean

One box of Tic Tacs (lest your breath offend)

One silly disguise (for quick escape or entertainment purposes)

One condom (in case you get lucky)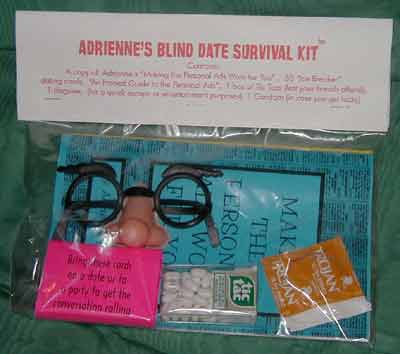 A $20 value, $12.50 (plus s/h)
Makes a great gift for any single!
All books and gifts are available for purchase at the workshops. (no s/h charges)